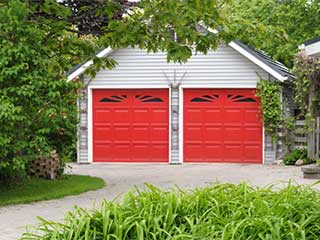 Garage door technology has advanced to the point where you now have a wide range of materials to choose from. That's great – if not a little intimidating. They all have their strong points: steel is sturdy, aluminum is light, plastic is cost-effective, and wood has a classic look and feel. But the best part of having multiple options available to you is that you can tailor your door to your specific requirements. After all, no two households are exactly the same. You might leave yours unused for weeks at a time, while your neighbor opens theirs up three times a day. Your garage might be separate from your house, and your neighbor's might be part of the structure. Each of these scenarios has their own security implications. Your door is a significant investment that deserves an informed choice.
The 3 Top Factors
If you think it doesn't matter which material you choose, here are three factors you should definitely consider:
Weight: Steel and wood are usually the heavier door materials on the market. If you choose one of these, bear in mind that your opener mechanism will need to be one of the stronger available models, to handle the task of lifting and lowering the extra weight.
Security: Your door is a key part of your home's security system, and a strong door will resist break-in attempts. Steel and aluminum are in most cases fairly impervious to tampering, although you should also consider investing in a quality locking system.
Ease Of Maintenance: Wood doors usually require quite a bit of regular maintenance to prevent water damage, while steel doors are susceptible to rusting and aluminum may corrode if left uncared for over time. A plastic door might be the easiest to maintain and to clean, but does it meet the criteria above?
Garage doors are typically constructed from plastic, aluminum, steel or wood, but some brands may combine a number of these in one door design.
What Are The Benefits Of A Plastic Door?
Plastic is an affordable material that lends itself to custom designs. This means you may find yourself spoilt for choice and won't have to be stuck with one style forever. Plastic is also the lightest of these four materials, so won't require a particularly strong opening mechanism. However, plastic doors aren't known for their strength, and can be prone to damage and tampering.
Why Choose Aluminum Or Steel?
Metal doors are strong and resilient, making them a great option if you are worried about security, or feel unsure about frequent maintenance. Steel can be heavy, while aluminum offers a greater balance of security with a lighter weight.
Is Wood The Best Door Option For You?
A wood-paneled garage door can help give your home the classy finish it deserves. After all, this is the first aspect of your home your visitors will see as they pull up outside. If you're all about making a lasting impression, wood may be the way to go. Vanity only goes so far however – so remember, a wood door can weigh a great deal more than other materials, may require a stronger opener to operate and will likely require quite a bit of attention when it comes to maintenance.
Not sure where to start? Speak to our expert technicians at Garage Door Repair Clinton – we'll be glad to help!