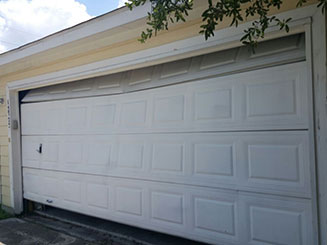 A quality garage door can be a wonderful addition to any home. It provides protection for your stored belongings and prevents rough weather from getting inside your home. However, if it fails to function properly, it may cause more annoyance than convenience, in addition to posing a real safety threat to you and your family. Negligence is often the real culprit when it comes to accidents, as a lot of problems can be avoided with the right maintenance routine. Here are some common issues you may experience and ways to prevent them from occuring.
Broken Cables and Springs
Garage door panels can weight a lot, which means if they're not properly secure, they can be very dangerous. It also means that they require a considerate amount of force to move, which means the components in charge of that will be under a lot of stress. It's important that you check the condition of your springs and cables every so often in order to make sure they're not wearing out too quickly and are getting ready to break.
Track-Related Issues
Another common problem is the door getting stuck partly open due to bent tracks that cause a couple of rollers to slip out. To prevent this issue, you need to, you guessed it, inspect the tracks every now and again to make sure they haven't developed any dents. You can also lubricate the rollers in order to promote their smooth and silent performance and reduce the friction that causes them to wear out gradually. If you need to have a track replaced or realigned, let our experts take care of it, to avoid accidentally damaging some other part of the system.
Motor Unit Problems
Your garage door opener is the device that automates the operation of the mechanism. If it fails to work properly, it could pose a real threat to your safety, as it may not reverse the door when an obstacle gets in its way. This can happen due to its safety sensors becoming misaligned, or because of some issue with the unit's force limit, which affects its auto-reverse feature. It's important to test these mechanisms in order to make sure that the system stays safe for you and your family to use. As soon as you discover a problem, give our experts at Garage Door Repair Clinton a call to have it fixed quickly.