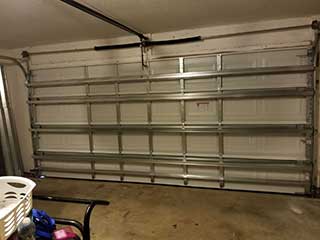 Many people think that the opener is what supports the weight of the garage door panels and moves them up and down. While that motor unit does provide the initial force (which you yourself provide with a manual door) the springs are the ones that actually bear the majority of the weight. Not only that, they actually do most of the heavy lifting too, as they provide tension based force that takes most of the strain off the opener (or off you, with a manual system).
Important But Dangerous
As crucial as these components may be, they're still potentially very dangerous. The constant strain they're under makes them liable to eventually break, and when that happens they can go flying, which can cause them to injure anyone who happens to be standing in the way. That's why any spring adjustment or replacement should only be performed by trained professionals. Our team can carry out this procedure quickly and without putting anyone at risk.
Our Maintenance Service
As part of the regular service visits that we offer, our experts will inspect the condition of your garage door springs, making sure that their coils haven't become deformed. We'll lubricate them to ensure their performance is as efficient as possible, and we'll also adjust their tension if we find that the door is getting unbalanced. This will help these components last for a lot longer, and will save you money on premature repairs or replacement.
Whatever You Need
Broken torsion or extension springs may lose their stored tension, but that doesn't mean that you should try to handle them by yourself. The act of installing a new spring can be extremely dangerous, as it involved loading the new unit with tension, and any wrong move could have catastrophic results. Contact our team at Garage Door Repair Clinton and let our professionals take care of any type of issue you have involving these important but dangerous components.
We also take care of:

Part Replacement & Repair

Oil Tempered Torsion Springs

Track Replacement & Repair

New Garage Door Keypads