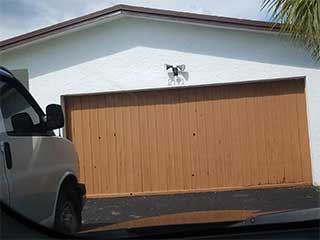 Automatic garage door systems can break down from time to time due a variety of issues. Many of these problems can be avoided if you make sure the mechanism is maintained properly. One of the different services that our company offers is regular maintenance appointments, during which we will carry out a wide range of minor repairs and adjustments that will help to ensure that the door and all its parts are able to perform optimally.
The Resulting Benefits
Aside from being able to avoid a lot of costly and potentially dangerous problems, regular maintenance also helps to increase the longevity of the system. That means you'll be able to keep using for a lot longer than what you may expect, which will save you time and effort in the long run. Of course, ensuring the system is still safe for use and saving money on preventable repairs are additional pluses that should not be ignored.
Professional Spring Adjustment
One of the tests our team will perform on your system is a spring tension test, which will let us know whether or not the door is balanced. The springs, which are the components in charge of supporting the panels' weight and providing the counterbalance needed to help the door move, can be very dangerous, so you must never try to adjust or replace them yourself.
Opener Safety Testing
The condition and functionality of your motor unit must be excellent, as it is the device that automates the performance of the door. As such, it has safety features put in place to prevent it from closing while there's some type of obstacle (person or object) blocking the door's path. It's very important to have these mechanisms tested on a regular basis, in order to make sure that they haven't failed and that your door isn't posing you and your family a safety risk. Our team will realign the safety sensors or replace them completely if necessary, and we will make sure the door reverses properly when there's something underneath it.
Don't Wait For The Worst
Call our team at Garage Door Repair Clinton today and schedule a maintenance visit. Why wait for things to go wrong when you can prevent most accidents from ever occurring?
Count on our team for:

Opener Adjustment

Door Level Alignment

Install New Panels

Fix Garage Door Track